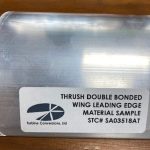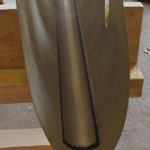 PROTECT YOUR AIRCRAFT'S WINGS FROM  DAMAGE DURING FLIGHT FROM BIRD STRIKES AND ORCHARD WHIPS
Turbine Conversions, Ltd offers Thrush Aircraft owners an FAA approved STC bonded aluminum reinforcement to the aircraft's leading edges to help protect the aircraft from bird damage and whip strikes.
With this simple but effective process, you can replace an entire wing or just one section it is up to you.  TCL's reinforced leading edges use special equipment to bond an additional lightweight super strong .050 extruded aluminum support to the inside of a new leading edges. 
 SIMPLE PROCESS:
Contact your favorite Thrush Parts Dealer

Order the leading edges you need reinforced

Thrush Aircraft will drop ship the leading edge parts to Turbine Conversions, Ltd in Michigan

Turbine Conversions will reinforce them and ship them to you in the US or Canada for installation by your favorite mechanic